We launched our Artists Giving Circle as a way to support our programming and widen our circles. We create a win-win opportunity for cross-promotion of artists, a way to grow a base of conscious consumers, give access to markets and economic opportunity for our international artisans, and ultimately benefit the children we serve creating future creative leaders.
Jocelyn volunteered many moons ago with an event in our beginnings. She reached out when she saw our environmental focus on our consumption and waste. As an environmental health and wellness advocate, she wanted to give to our mission, help expand our circles, and inform others about healthier options in personal care products for adults, and children.
Jocelyn Rose Settle is a wellness advocate for Beautycounter, a B-Corp with a mission to get safer personal care products into the hands of everyone. With a background in Yoga, massage therapy and opera, the clean beauty movement was a natural fit.
Jocelyn 's journey as a Beautycounter Wellness Advocate began when she realized she had been unknowingly applying toxic chemicals to her daughter's sensitive eczema prone skin. We all deserve safer skincare and cosmetics, and Beautycounter is working at the level of Washington DC and Parliament to that end.
During the month of April, in honor of Earth Day and spring!... all proceeds from your Beautycounter orders will go directly to Children Inspiring Hope. (that is approximately 30% of your purchase). Now is a such a great time to make a clean swap with your skincare and makeup, while simultaneously supporting the planet, people and our children in Ghana.
Please feel free to connect with Jocelyn HERE to learn more about the company, the mission for clean beauty as well as which Beautycounter products would be best for you and your family.
Lauren has helped CIH with design, co-hosted December events were she generously donated 15% from her items that include our beads, and is designing a line for 2018 with proceeds going to our Water to Drink Service Project.
Lauren Milmine Designs
Lauren creates her jewelry with brass, silver and gold metals, suede, semiprecious stones, pearls and a variety of beads (including our recycled glass beads from Ghana). Lauren's jewelry collection consists of one-of-a-kind, distinctive pieces which range from simple yet sophisticated to bold and innovative. Lauren's jewelry retains classic elements while incorporating a modern twist to complement current fashion trends.
Visit Lauren's site to see her work.
The Lettees have partnered with Children Inspiring Hope to help raise funds for their mission by using handmade glass beads from Ghana into select Recycled Tee Accessory pieces, and sharing percentages of sales from trunk show at Parlor.
Lettees
Mission is Pursuit of Global Happiness: by recognizing and respecting every person as a unique and special individual though our personalized products, by reducing waste with our recycled tee accessories, and by caring for others through our fundraising efforts and our partnerships in support of nonprofits.
Lettees® is a Savannah, Georgia working studio of highly skilled and professionally trained Masters and Bachelors of the Arts. They specialize in original designs, personalized items, and recycled tee accessories for babies, children, adults and home. Lettees Recycled Tee Accessories© are each hand crafted by creatively incorporating recycled tees or another of their jersey knit products into each unique item.
Visit the Lettees site here.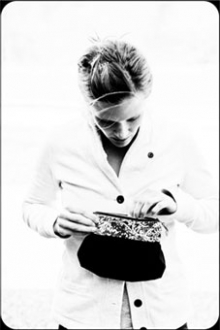 Dickie traveled to Ghana with Children Inspiring Hope in March of 2015
Become part of our Artists Giving Circle
Are you looking for a ways to spread your creativity for the greater good? Would you like to be a part of bridging children cross-culturally through arts and creating a more peaceful global community? Would you like to support artisans in Africa? If you answered yes to any of these, consider becoming part of Children Inspiring Hope's Artists Giving Circle. We are looking to start with an artist or company a month, with proceeds benefitting global programming in arts and education.