MAKING A WORLD OF DIFFERENCE THROUGH
Upgrading School Facilities
We understand, firsthand, the impact that classroom conditions have on the students and teachers in Ghana. As long as we have been working with our partner schools, we have watched class sizes rise to as many as 50 children. Students squeeze together, sometimes three to a desk or one computer, in equatorial heat. Teachers grow overburdened by extra grading and less individualized attention for their students.
We decided it was time to collaborate with these communities, and make a difference- giving them room to grow through the upgrading of computer labs and helping complete construction of classrooms.
COMPUTER LAB UPGRADES
In 2010 we collaborated with EVCOAfrica, Inc. and the EP Primary Ho-Bankoe community, to install a computer lab. The lab is in need of upgrading in order for classes and teachers to have access to educational materials. We are looking to add 10-15 computers, flat screens, headsets, a projector and Rachel Plus Server. RACHEL stands for Remote Area Hotspot for Education & Learning and provides access to teaching and learning materials for up to 40 devices at a time via wifi technology
Our needs for this upgrade are: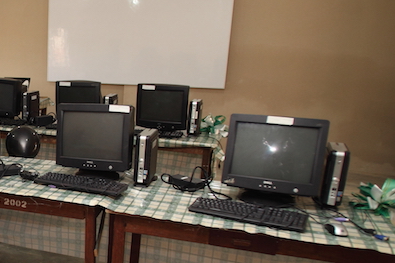 Computers
We met our $2,850 goal!
HEADSETS
25 headsets at $25 each
RACHEL-PLUS SERVER
We met our $450 goal!
In an effort to assist in completing new schoolrooms, the local community is providing labor and some of the supplies. Our needs are:
FOUNDATION
The foundation of the three school rooms is complete!
building blocks
150 units of blocks at $9.50 per unit
structure
300 units of lumber at $10 per unit
ROOFING
275 sheets of roofing at $12.50 per sheet