Making a world of difference through
Providing Access to Clean Water
We consider clean drinking water to be a human right. The challenge of access to clean water is an environmental theme that we continue to educate youth about. After learning about this growing global issue, and a deepened compassion for those in need, we wanted to create the opportunity for compassionate action, and create a pathway for meaningful impact.
We have identified two villages in the Volta Region, where we work, which have over 1,2000 residents combined. Many pervious models have been unsuccessful in getting clean water, including a bored hole that pumped brackish water unsafe to drink. Since the fall of 2017, we have been delivering water filters twice a year to families providing a temporary solution. We have begun a cross-cultural, multi-discipline collaboration for a long-term solution: piping water in to a single gathering spot in two villages.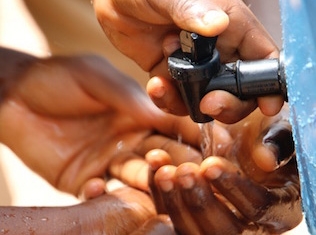 -Water Filers & Buckets
We've to date given over 150 buckets and filters providing clean water for for over 600 people and students.
Next Goal for October 2019 $3,500
We only need $800 more to reach goal!!
100 buckets and filters to three villages
*See our progress in the gallery below!*
Bore Hole & Pump Installed July 2019
Installing a pump on the bore hole at E.P. Primary Ho-Bankoe, will bring water to 565 students and their teachers. Official celebration planned for Nov 1, 2019.
We are currently assessing the next bore hole project.
Pipeline to Dorkplorame
This pipeline will provide 550 people with clean water. We are working with grassroots community organizers, students, and advocacy at local level with District Assembly. More soon…